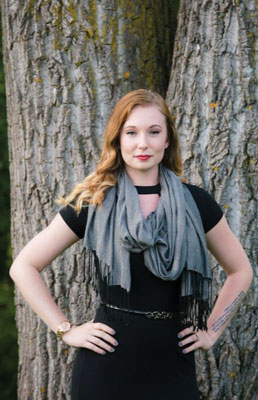 Dancer development and conditioning is a class designed to help students elevate their technique skills and build strength using exercises inspired by the Godfrey method. The Godfrey method is a proven and leading training method for dancers around the world. In this class, we will focus on active stretching, strengthening, and building technique to sharpen skills such as turns, jumps, and kicks. This class is open to all levels of dancers, ages 11-adult. Please bring a theraband, yoga mat, and tennis ball with you to this class.
About the instructor, Grace Fredell
Grace Fredell is a professional Modern dancer, dance teacher, and gymnastics coach. She has been dancing professionally and teaching since 2013. She has been training since the age of three at Heartbeat Studios and attended high school at St. Paul Conservatory for Performing Artists where she got the chance to learn from some of the top artists in Minnesota. Since then, she has performed at numerous Fringe Festivals with award-winning Vox Medusa Dance Company, and continues to work as a professional dancer/teacher in Minnesota and abroad, most recently in Barcelona, Spain.
8-Week Session: Fridays from July 7-August 25 / 5:00-5:45pm
• Tuition for entire session: $126
• Class location: Heartbeat Performing Arts Center, 7661 145th Street West, Apple Valley, MN 55124
• Questions? 952-432-7833 / debhtbt@frontiernet.net or kristinheartbeatpac@gmail.com
• What to wear? Tank top or leotard, and leggings. Dancewear such as leotard, dance shorts, flesh-tone tights are also appropriate.
Registration Deadline: Friday, June 30
Return this form to Heartbeat by mail, email, drop off, or simply give us a call to register over the phone. Or add to your online registration.